Conveyor Racks & Baskets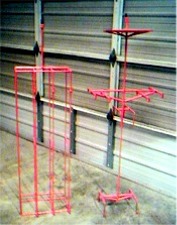 CornerStone Rack & Tooling can work with customers from the beginning stages of installing a conveyor in the plant to the final stages of production. CornerStone can custom design material- handling equipment for a new manufacturing process or redesign an existing system to achieve greater efficiency.
CornerStone Rack & Tooling has the capabilities to put whatever finish is required on the conveyor racks or baskets to help reduce manufacturing defects that can be caused by handling and movement. The conveyor racks and baskets can be finished with a plastisol coating, a painted finish, or a combination of both finishing processes. The CornerStone staff has over a 100 years of combined experience in designing and implementing conveyor racks and baskets for the manufacturing and material-handling industries. For your next project, please contact us for a quote.