Paint Racks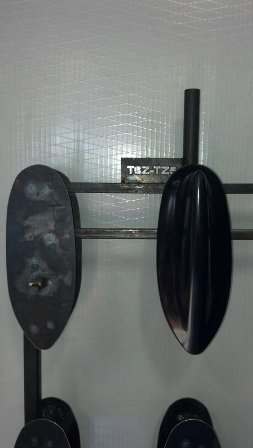 CornerStone Rack & Tooling can build paint racks and fixtures for a variety of finishing operations including powder coating and wet spray. The CornerStone staff have all the knowledge and experience to design racks and fixtures from "scratch" or to improve a design that is not performing to requirements.
As manufacturing line speeds and densities increase, part placement and positioning become more critical than ever before. The CornerStone staff have all the design knowledge necessary to implement modern processing equipment to the most exacting standards.
Many companies are replacing metal parts with painted plastic parts to reduce weight and cost in products. The switch to plastics complicates the rack design and production procedures. Plastics are more sensitive to the factors of warpage, drainage, and spacing than metals. CornerStone can custom design paint racks to the most exacting standards required. Our staff has all the skills and experience necessary to work with your molding personnel to ensure that all of your requirements are covered. On every job, no matter how large or small, CornerStone builds welding and adjustment fixtures to exact standards. So whether you have 1 rack or a 1,000 racks built, CornerStone will build a consistent rack from beginning to end.