Electroplating Racks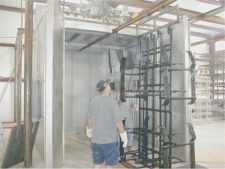 CornerStone Rack & Tooling has the processing technology and quality control required to build racks for chrome plating parts. CornerStone's equipment incorporates the latest technology and is operated by employees who have been trained in the process of building electroplating racks. Our core staff has over 100 years combined experience in the rack and tooling industry and ensures that quality is maintained throughout the manufacturing process.
The CornerStone core staff experience is vital in building quality plating racks, especially when the substrate is plastic. The only school that teaches electroplating rack design is the "university of hard knocks", and with over a 100 years of combined experience the core staff at CornerStone are all "graduates". There are a multitude of factors that must be considered when building electroplating racks, and these factors can only be clearly understood through experience. A few of the critical factors are electrical current distribution, drainage, and warpage.
CornerStone Rack & Tooling provides fast and reliable service while maintaining a superior level of quality and design in building electroplating racks. Maintaining quality while building modern electroplating racks requires "state-of-the-art" equipment and training. CornerStone takes pride in maintaining our manufacturing facility with some of the best machinery and processes available in the industry. Our highly technical representatives spend an equal amount of time with our clients and on the CornerStone Rack & Tooling Shop Floor.