Plastisol Coating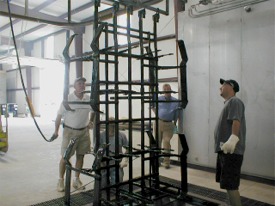 After careful analysis of the market, CornerStone Rack & Tooling has installed a plastisol coating system with some of the largest work parameters available anywhere in the industry. CornerStone can coat items with dimensions 9 feet long, 4 feet wide and 9 feet in depth with a weight not to exceed 500 pounds.
Having a plastisol coating system this large requires careful attention to processing quality, efficiency, and environmental controls. CornerStone Rack & Tooling has carefully addressed all 3 of these requirements.
Quality - In order to make certain that our customers receive the finest work possible, CornerStone purchased and installed modern computer controlled ovens to consistently maintain the optimum temperature from load to load.
Efficiency - Having equipment this costly requires that the plastisol coating process be highly efficient to prevent an unacceptable price point for our customers. CornerStone has installed a highly efficient monorail system that substitutes having to "manhandle" the items to be coated. Our staff contributed their vast amount of combined experience in the implementation of the CornerStone plastisol coating system.
Environmental Controls - CornerStone Rack & Tooling spared no expense in implementing one of the most environmentally compliant systems in the industry. CornerStone takes great pride in the responsible protection of our environment.